North Country Community College 2020 Commencement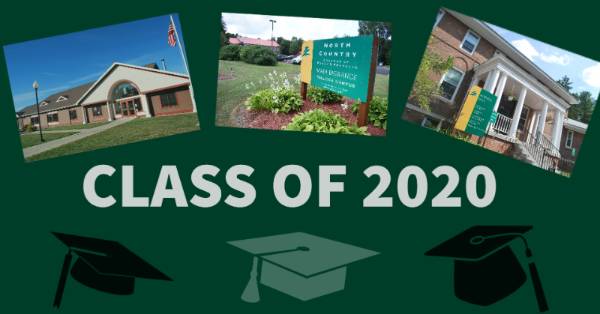 North Country Community College hosted a Virtual Commencement Celebration at 11 a.m. on May 16, 2020.
Invitations and passwords to access this celebration were sent via student emails.
We're excited to share the following content with our graduates. We know it can't replace what should have been an in-person ceremony, but we hope it recognizes and celebrates all you've done to complete your degree or certificate, particularly since the onset of COVID-19.
---
---
---
---
---
---
In addition to all this, we have created short congratulatory videos from faculty that will be emailed directly to Spring 2020 graduates. Look for yours sometime in the next couple days.
Diplomas, tassels and various gifts from the college will be delivered to students in mid-June.
Once social distancing guidelines have been curtailed or ended, the college will host on-campus cap and gown photo sessions with the president, similar to those we've held in the past for December graduates.
If you have any any questions about our Commencement activities please contact Stacie Hurwitch, chair of the college Commencement Committee, or Chris Knight, director of communications.