President's Welcome
The College is proud to serve the counties of Essex and Franklin and support education and economic development throughout the north country region.
The College is a member institution of the State University of New York (SUNY).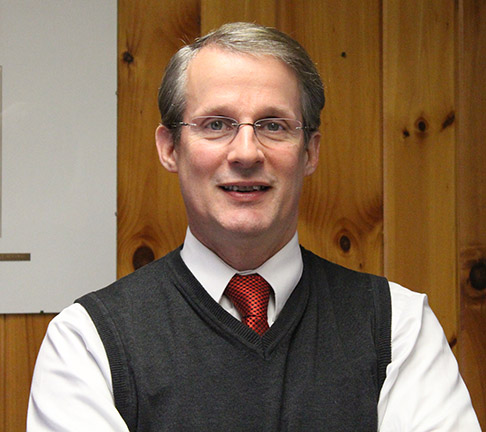 We are so pleased that you have decided to join North Country Community College. You will find that you have chosen a college that has time and time again demonstrated that our students are our first priority and the learning experience here is like no other place in higher education. Quite the claim you might think – but we believe you will find it to be true as you spend more time with us!
No matter where you originate from, you will find that entering this College will build confidence for you in ways you never imagined. If you are worried about achieving your academic goals, we can help you. If you are worried about meeting people and feeling connected, we have many ways for you to do so. If you want to make sure your coursework here prepares you for your goal of achieving a baccalaureate degree, we do that very well too – read on!
Our students tell us all the time that they value the incredible connection they have with our faculty. You are not a number here; as we are a small college with intimate class settings. Our faculty will sit down with you in their office or even for lunch and talk to you about how you can continue to be successful here. And they are so very knowledgeable about the choices you have (many you may not even know) when you are close to leaving us in the future. NCCC faculty are some of the best trained you will find anywhere in higher education and they care about one thing – your success! Another incredible claim, you might add – but we have a superb transfer rate of those graduates who choose to head off to the baccalaureate institutions of their choice. And what is even better, the faculty at our four year partners: SUNY Plattsburgh, SUNY Potsdam, and Clarkson University - often remark to our graduates and to us:
"We love your graduates; they are so prepared for upper division work."
"Your students have more in-field experiences than our seniors!"
"NCCC graduates add so much to my classroom discussions; please send me more!"
They love NCCC graduates because our graduates receive outstanding instructions and training from our faculty.
You may not know, but many of our students graduate and are immediately employed in their field of study. Employers also love our graduates because our training programs in the field, whether clinical or internships, are a form of hands-on-training that build professional competency and yes, professional confidence. Our unique learning laboratories can be found in our classrooms, in the field and in clinics, and even in our residence halls. You can learn about leadership, teamwork, communication, and conflict management by living and learning with other residents in our housing opportunities, out on the trail in a Wilderness Recreation Leadership class, or on a clinical rotation at a hospital. And most graduates will tell you it is here in college where we meet our friends for life. So, what are you waiting for? Make time to join a club, attend a student-sponsored event, live in a residence hall, or move out of your comfort zone in the classroom – you will grow as a result of "showing up" to get the most out of the NCCC experience.
It is quite a story! Some students might arrive here at North Country Community College feeling apprehensive about pursuing a degree. But all will leave feeling confident and each will be able to continue to pursue their goals. You will find your place at North Country Community College – a place where our employees help you make your dreams come true. So, join with the rest of us in our "Saints Nation" and make the most out of what we have to offer to you. If you work hard, and ask for help when needed, anything is possible!
All my best,
Dr. Steve Tyrell
President
Dr. Steve Tyrell arrived in June 2012 as the 6th president of North Country Community College. Prior to his arrival at North Country Community College, he served as vice president for student affairs at Alfred State College, associate dean for student discipline and conflict resolution at MIT, associate dean of student life at Michigan Tech and a variety of positions in student activities, residence life and new student orientation at SUNY New Paltz. Dr. Tyrell has also been active on a number of state and national associations' committees including ACPA's Commission on Administrative Leadership, ACPA Professional Skills and Knowledge Competencies, NASPA/ACPA Joint Committee on Developing Professional Standards, and served as president of SUNY's Senior Student Affairs Officers. He currently serves on the CSPA-NYS Journal's editorial board and is a faculty member in ACPA's Mid-Level Managers' Institute.
Dr. Tyrell has published and presented papers on topics ranging from academic integrity, assessing community development in the residence halls; crisis management; managing issues related to students at risk; effective intervention strategies for alcohol and drugs; effective application of student development theories and models to practice, the exercise of power in middle managerial discourse; issues related to effectiveness and politics in higher education; developing student learning outcomes assessment programs in student affairs; the future of student affairs; and strategic planning for institutions of higher education. Dr. Tyrell has also served as an adjunct faculty member teaching interpersonal communication at SUNY New Paltz and Michigan Tech. He has received numerous awards including Diamond Honoree (ACPA),Leadership Chair Award (ACPA), and Outstanding Service to the Association (CSPA-NYS).
Dr. Tyrell has a PhD from Michigan Tech in Rhetoric and Technical Communication, a master's degree in Educational Administration and Supervision and a bachelor's degree in Speech Communications, both from SUNY New Paltz. Dr. Tyrell lives in Saranac Lake, NY and has a son, Zachary and a daughter, Emma.
Contact Us:
Dr. Steve Tyrell, President
518-891-2915 ext. 1201
See the latest North Country

Strategic Plan Report

here.