After military service, local man gets new start at NCCC
Business program grad Dane DeGrace finds success at local biotech company
SARANAC LAKE – After he medically retired from the U.S Army, Dane DeGrace returned home to Saranac Lake, determined to begin the next chapter of his life.
That new beginning started at North Country Community College, where DeGrace enrolled in the fall of 2016. It was his second try at college, having dropped out of NCCC nine years earlier after just one semester.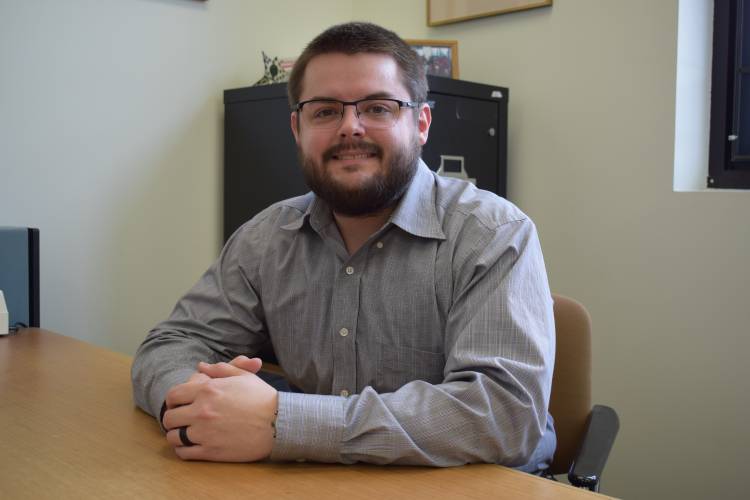 "I knew when I got out of the Army that I wanted to go back to school," he said. "My initial plan was to go to another college, but they tried to hold my past transcript against me. I applied to North Country in the hopes someone would accept me, and they did. They gave me the opportunity. They gave me a new start, a fresh chance."
Two-and-a-half years before he returned to Saranac Lake, DeGrace was about as far as one could get from a college classroom.
It was May 2013. DeGrace was in month seven of a nine-month deployment to Afghanistan as an Explosive Ordinance Disposal technician. A platoon of infantry soldiers had been hit by a series of Improvised Explosive Device blasts, and DeGrace's team responded to the scene.
"As my team leader was loading a casualty onto a stretcher, he functioned another IED. He was killed," DeGrace said. "I was going down to get the team leader, and a medic followed me down, even though I told him to stay back. He stepped off my cleared path and functioned an IED, and that's how I got injured."
The explosion occurred about two feet behind and to the left of DeGrace. He lost "chunks" of flesh in his left arm, left buttock and right calf, and was hit all over with shrapnel. He suffered nerve damage, muscle loss, hearing loss and was diagnosed with a Traumatic Brain Injury.
After receiving initial medical care in Afghanistan and Germany, DeGrace returned to the U.S. for treatment at Walter Reed National Military Medical Center in Bethesda, Maryland. He was in inpatient care there for a month, with his family by his side. He had 20 surgeries over that time, followed by three months of outpatient care.
DeGrace eventually returned to Fort Stewart, Georgia, where he tried to resume his duties.
"But it became apparent that the nerve damage was so bad that I lost grip strength, and I would randomly drop things," he said. "I decided I could no longer do my job safely, so I went through the medical retiring process."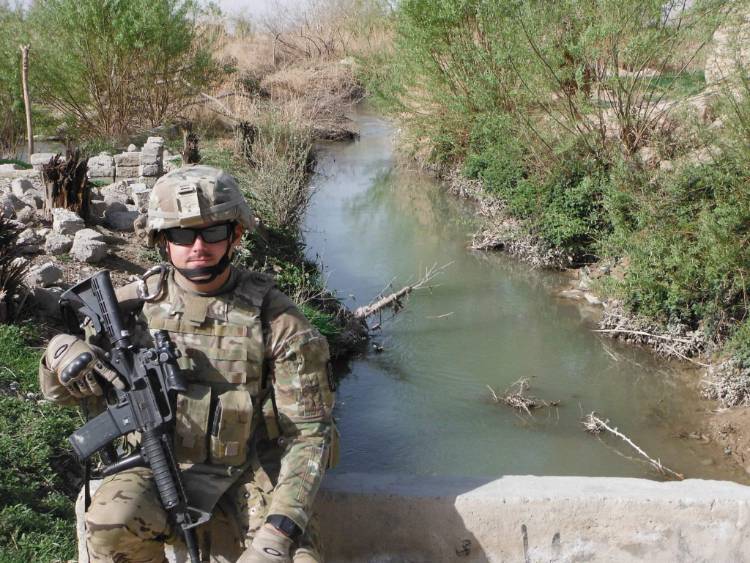 By the fall of 2015, DeGrace was back in Saranac Lake with his wife, taking classes at NCCC toward his Business Administration degree. He said he had a different mindset about college this time around.
"I knew what to expect going in the second time," he said. "Plus, I had real world experiences that really made my studies that much easier. I thrived at North Country. My advisor was Lynne Fisher Kemp. She was amazing. She gave me all the tools I needed. I finished with a 3.99 GPA and graduated in spring of 2017."
After NCCC, DeGrace continued his education at Paul Smith's College, enrolling in the Entrepreneurial Business Studies program. An articulation agreement between the two local schools made the transition seamless, he said.
"They guaranteed me I would graduate in two years after North Country," DeGrace said. "That was huge. Everything that I took at North Country plugged directly into the curriculum at Paul Smith's."
While he was at Paul Smith's, DeGrace applied to be an intern at Bionique Testing Laboratories in Saranac Lake. He was offered a part-time position, which turned into a full-time job after he graduated in December 2018. DeGrace is currently the business manager for Bionique, and is putting to good use all the accounting, human resources, networking and other business skills he learned at both colleges.
"I've taken on a lot of new challenges and responsibilities, and it's all been possible because of my educational background," DeGrace said.
Last fall, NCCC and Paul Smith's College announced a special tuition savings agreement that allows graduates of North Country who enroll full-time at Paul Smith's to pay state-level tuition rates. The 2+2=You deal provides area residents with an affordable option to earn both associate's and bachelor's degrees in four years, while remaining in the Adirondacks.
"I think that's huge," DeGrace said. "Whether you're a traditional or a nontraditional student, you can set your roots and know you're going to be here for at least four years. To me, it was more enticing and appealing to stay in this area to get my education, instead of spending more money to go to school elsewhere. I'm glad I made the decision to stay local and give back to where I grew up."
For more information on the 2+2=You program and articulation agreements between NCCC and Paul Smith's, call 888-TRY-NCCC or email admissions@nccc.edu.