Kim Duffey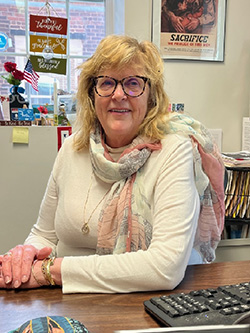 Kim Duffey is an Associate Professor of Business at North Country Community College with her tenure starting (first as an Adjunct) in August of 2012. Her education includes a Juris Doctorate (law degree), teaching credentials from the National Board of Professional Teachers (2011 to present) and certifications in teaching and reading from the State of Florida where she has been continually accredited as an educator since 2007.
She worked for the State of Florida Department of Financial Services as an analyst, for the City of West Palm Beach Office of the Mayor as a public information officer and as Executive Assistant to Mayor Joel T. Daves III. Married to artist, RJ Duffey, she relocated to the North Country permanently in 2011 after purchasing a home in Chateaugay in 2004.
Kim transitioned to her passion – teaching – in 2007 where she taught A.P. Government and Politics, IB History and AP Human Geography at award-winning, nationally ranked Suncoast High School – an IB/MSE/AP magnet public high school in Riviera Beach, Florida. Kim and her husband, a renowned artist and muralist, resided in West Palm Beach, Florida and experienced a fair share of hurricanes (leading them northward for good).
They have five children including three service academy graduates who are active duty or reserve officers in the U.S. military. For hobbies, Kim and RJ play multiple instruments and love to sing a good Irish or bluegrass tune. Kim's favorite piece of advice for students: Be on Task, Target and Time….and don't be afraid to go "down the rabbit hole" and stay curious as a life-long learner.
518-354-5235
CONTACT KIM DUFFEY