Madaline Toliver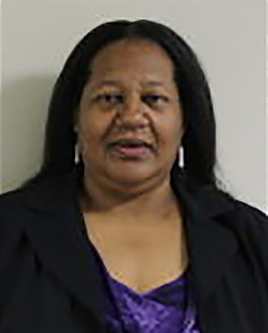 Madaline is a new Adjunct Instructor at North Country Community College though she has prior teaching experience at the collegiate level. She has worked in healthcare and social services for over 30 years finding fulfilment in ensuring that staff have what they need to provide quality services to all.
Madaline is a licensed nursing home administrator (LNHA) in New York State. She is currently Administrator/Assistant Vice President Long Term Care at Mercy Living Center, of Adirondack Health. She serves on both the Healthcare Association of New York State (HANYS) Post-Acute and Continuing Care Advisory Committee and the LeadingAge New York (LANY) Diversity Committee. She is also a visible presence at the Tupper Lake Village and Town Board meetings to represent Mercy Living Center in the community.
Madaline has served in leadership positions in a variety of healthcare settings including long term care, acute care, managed long term care PACE adult day health care programs, and with special populations in residential programs predominantly in New York City and the surrounding suburbs, and New Jersey, and as HIPAA Privacy Officer for the NYC Department of Health and Mental Hygiene.
She earned a Master of Public Administration degree in Healthcare Administration from Long Island University. She has pursued additional graduate studies in organizational change management and intercultural communications. Madaline is currently pursuing a Doctor of Education degree in Organizational Leadership with an emphasis in Health Care Administration.
Madaline is from Staten Island, New York. She sang her way through her Bachelor of Music degree but then had to discover other passions after a throat injury forced her to look up, look around, and search within. She chose being of service. Madaline also coached intercollegiate volleyball for 15 years, and now enjoys assisting the Tupper Lake coaches with a small camp at the beginning of their season. She enjoys the sharing of knowledge, the development of skills, and seeing the joy of discovery and accomplishment.
Madaline grew up in an urban setting, lived 30 plus years in suburbia, and now has resided in rural Tupper Lake for the past 6 years. She believes "You can find good and kind people anywhere. There's a slice of Americana here not experienced in more populated areas. It's still a marvel to me."
CONTACT MADALINE TOLIVER