New film highlights how Indigenous women influenced suffrage movement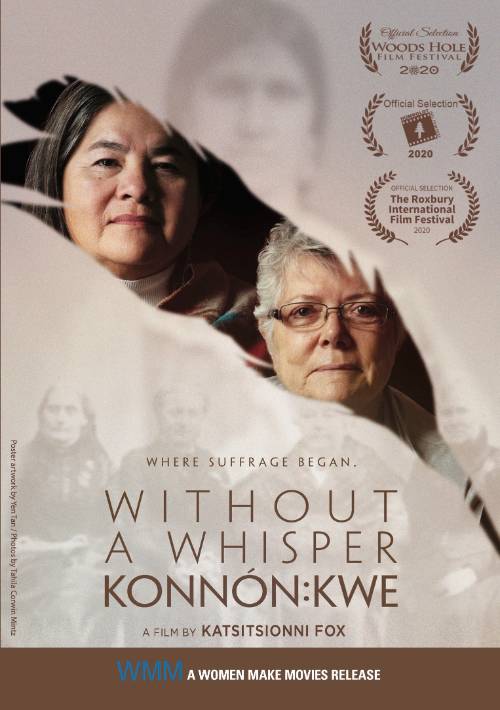 SARANAC LAKE – The community is invited to learn the untold story of how Indigenous women influenced early suffragists in their fight for freedom and equality through a virtual screening of a new documentary film by Akwesasne resident Katsitsionni Fox.
North Country Community College, Paul Smith's College and the Zonta Club of the Adirondacks are co-sponsoring a free screening of "Without a Whisper – Konnon:Kwe," which will be available for viewing Nov. 9-15. A question-and-answer session with the filmmaker will take place Nov. 12 at 7 p.m.
Registration for both the virtual screening and the Q&A is available by visiting https://form.jotform.com/202884609227158 or www.nccc.edu/live.
Before the first women's rights convention in Seneca Falls in 1848, European colonial women lacked even the most basic rights, while Haudenosaunee women had a potent political and spiritual voice and authority in all aspects of their lives. The contact that the early suffragists had with Haudenosaunee women in New York state shaped their thinking and had a vital impact on their struggle for equality that is taken for granted today.
"Without a Whisper – Konnon:Kwe" follows Mohawk Bear Clan Mother Louise Herne and Professor Sally Roesch Wagner as they seek to correct the historical narrative about the origins of women's rights in the United States.
After the screening, a copy of the film will remain part of the North Country Community College library digital collection.
This is the latest in a series of film screenings and presentations NCCC and its partners have organized this fall to shine light on the history, traditions and challenges faced by the Saint Regis Mohawk Tribe at Akwesasne and Indigenous Peoples in general. The college will host a panel discussion on the impact of the COVID-19 pandemic on Akwesasne on Oct. 29 at 7 p.m. on Zoom. To register for that event visit www.nccc.edu/live.
Questions about the screening of "Without a Whisper – Konnon:Kwe" may be directed to Kim Irland, Dean of Students at North Country Community College, at kirland@nccc.edu.
About Katsitsionni Fox: Katsitsionni Fox has been making films since 2003 in the Mohawk Territory of Akwesasne, where she resides. Her film "Ohero:kon - Under the Husk," following the journey of two Mohawk girls as they take part in their traditional passage rites to becoming Mohawk Women, received funding from Vision Maker Media and was broadcast on many PBS stations. Katsitsionni received the Jane Glassco Award for Emerging Filmmaker at the imagineNATIVE Film Festival in 2016 as well as the Achievement in Documentary Filmmaking Award at LA Skins Fest in 2016. She produced a series of twelve short segments for REMATRIATION, a Native American women's online, multi-media magazine, that is focused on healing and empowerment of Native women through the sharing of their stories and successes.  Her latest documentary, WITHOUT A WHISPER, is an untold story of how Native American women helped to inspire the struggle of American women's suffrage movement in the United States.
About North Country Community College: As the only public college located in the Adirondack Park, North Country Community College ensures open access to high quality postsecondary education and contributes significantly to the development of our communities by preparing an educated citizenry and skilled workforce. We offer transfer and career programs customized to serve specific individual, community, business and economic development needs. The college maintains three campuses in Saranac Lake, Malone and Ticonderoga, New York; an extensive high school-based academic partnership; and online course offerings. North Country Community College is part of the SUNY (State University of New York) system. With 64 unique colleges and universities, SUNY provides learning environments for every type of student, every stage of life, and every kind of passion. For more information, visit www.nccc.edu.
About Paul Smith's College: At Paul Smith's College, it's about the experience. We are the only four-year institution of higher education in the Adirondacks. Our programs - in fields including hospitality, culinary arts, forestry, natural resources, entrepreneurship and the sciences - draw on industries and resources available in our own backyard while preparing students for successful careers anywhere. For more information, visit paulsmiths.edu.
About the Zonta Club of the Adirondacks: The Zonta Club of the Adirondacks is a chapter of Zonta International, a 100-year-old organization which envisions a world in which women's rights are recognized as human rights and every woman is able to achieve her full potential. Zonta members work to empower women worldwide through service and advocacy.