Human Services
If you have a strong desire to help those who need help, including children, adults, families and those battling addiction, our Human Services programs will teach you how to provide the services that can positively impact their lives.
Human Services is the name we give to a diversified field that covers multiple degree and certificate programs at the college: AAS Human Services, AAS Chemical Dependency Counseling, AS Child and Family Services and Community Residence Aide Certificate.
Our programs prepare students for a broad range of careers in helping those in need. The program features both classroom instruction and practical training, including internships that will develop your skills in a real-life setting. You'll learn about human behavior and social problems and how individuals interface with various systems to address these issues.
Graduates of our Human Services programs are prepared to enter the workforce in entry-level positions or transfer their credits to baccalaureate-granting institutions for advanced education and training.
Interested in learning more about our Criminal Justice program? Click the button below:
Criminal Justice at North Country
---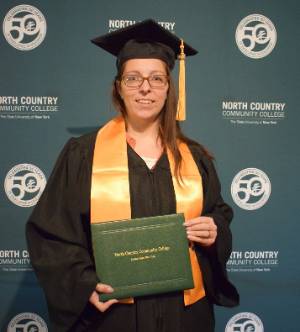 "The education and instruction I received at NCCC prepared me for my continued education and the entrance into the work force by encouraging my strengths. This wonderful college empowered me to see my worth and capabilities."
-Nichole Thompson-Black, Winthrop, NY
Human Services and Chemical Dependency Counseling (2018)
Currently: Student at Plattsburgh State, Community Connections Youth Work Training Program Supervisor
Read more stories from Human Services program alumni
---