Learning Assistance Centers: Tutoring, Testing, and Academic Coaching
Tutoring Services – Spring 2021​
Hours: The Learning Assistance Centers (LAC) will be open from 8:00 am - 4:30 pm, Monday - Thursday, and from 8:00 am - Noon on Friday, starting February 16, 2021 for in-person appointments..
Remote appointments can be scheduled begining on February 1.
The LAC's are offering REMOTE tutoring, by appointment, all semester.
Beginning the week of February 16, IN-PERSON tutoring will be available by appointment.
Effective immediately, all students must present evidence of a negative COVID-19 test result prior to arriving on campus for any reason other than a curbside pickup arrangement.
The test must be administered within 5-8 days of your arrival on campus. After you are initially tested, if you will be on campus regularly, you must also agree to participate in pooled surveillance testing every two weeks. The pooled surveillance tests can be given on campus and you would participate by providing a saliva sample.
For specifics on what you need to do if you're coming to campus, how to arrange a test and contact information on testing sites, visit the Fall 2020 page on our website. If you have any questions, contact Stacie Hurwitch at shurwitch@nccc.edu.
· In-person tutoring is by appointment only- we cannot take walk-ins due to COVID-19.
To request remote or in-person help from our NCCC tutors, click on the green "Request Help" link below, fill out and submit the help form. Someone will be in touch with you shortly. -- Request Help
NEW!- Online Evening Tutoring
Through STAR-NY
Sunday through Thursday, 7 PM to Midnight (Login until 11:30 PM)
STAR-NY Tutors are from 25 SUNY schools across NY State!
You do not need an appointment to use STAR-NY tutoring services and it is free to all NCCC students.
To access STAR-NY online evening tutoring:
1. Click on the STAR-NY Tutoring Link https://www.starny.org/tutoring_schedule
2. Log-In using your NCCC username and password
3. Click on the Request a Tutor button
4. Fill out the tutor request form
5. When you reach the Dashboard page, click on a room opened for your subject to enter the room and work with a tutor.
Subjects that tutoring is offered in through STAR-NY:
· Writing Any course through Masters level (except foreign language)
· Math Pre-Algebra, Algebra, Pre-Calculus, Calc I, & Intro to Statistics
· Chemistry Introductory level & General Chemistry
· Biology (SUN, TUES, & THURS) Introductory level and Anatomy & Physiology
· Physics (MON, TUES, & THURS) Introductory level
· Psychology Introductory level
· Economics Introductory level, Macro, and Micro
· Computer Science Introductory level
· Nursing Introductory level
· Accounting Any course below the 400 level
· Organic Chemistry (TUESDAY ONLY)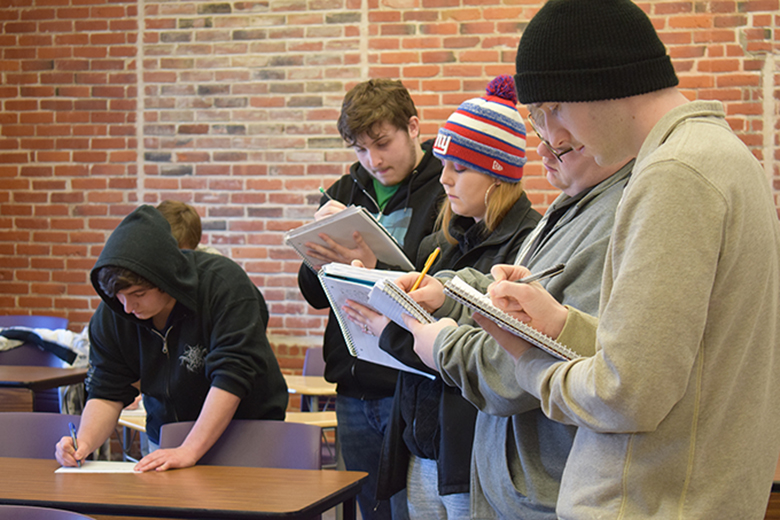 The Learning Assistance Center provides academic support for students on all three of our campuses, Malone, Ticonderoga and Saranac Lake. We encourage you to visit the LAC and to take advantage of our testing services, one on one tutoring, study groups led by tutors, research and writing support, or workshops on strengthening study skills. We have both professional tutors and peer tutors available Monday through Friday. Stop by the LAC on your campus or email us if you are enrolled in one of our online programs. Your success is important to us!
Our Learning Assistance Centers provide support in the form of:
Accommodative services

Quiet testing room

Individual tutoring sessions

Academic coaching

Study groups

Placement testing-Accuplacer

Blackboard help

NCCC Student Portal and Outlook email help

MLA and APA citation

Assistance with all stages of the writing process

Research assistance and NCCC Library database use

Workshops on study-skills, time management, organization, and test-taking skills

Resume writing

Textbooks -*some titles available

Quiet study spaces

Student computer area